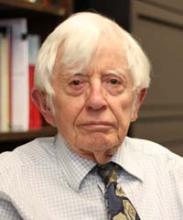 It is with sadness that the Faculty records the death of Rom Harré on the 17th of October at the age of 91. Horace Romano Harré was Friedrich Waismann's successor as University Lecturer in Philosophy of Science, and Fellow of Linacre College, from 1960 until his retirement from Oxford in 1995.
Rom Harré was born in New Zealand and studied mathematics (BSc) and philosophy (MA) at the University of New Zealand (now Auckland University). He did the BPhil at Oxford under the supervision of J. L. Austin, whose influence on him was something he relished all his life.
Rom Harré was an extremely prolific writer over a wide range of subjects, including the philosophy of science, philosophy of physics, philosophy of psychology, psychology itself, and social psychology. He was awarded five honorary doctorates and received a Lifetime Achievement Award from the American Psychological Association. Rom Harré was an inspiring tutor, a stimulating lecturer and a congenial colleague, with an encyclopaedic knowledge of history and the sciences in addition to philosophy. He played a key role in the creation of the Joint Honours School in Physics and Philosophy, and later spearheaded the successful application to the government for the establishment of the University Lectureship in Philosophy of Physics. He was a wise and warm man; one visiting American scholar who benefitted much from his generosity described him as having "a doctorate in people".
.