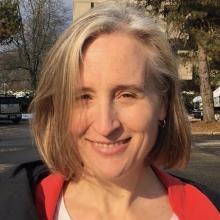 Positions:
2018 – present            Professor of Philosophy and Tutorial Fellow, Regent's Park College, Oxford
2000 – present            Philosophy (Assistant, Associate and Full Professor), The New School for Social Research, NY
2017 – 2018                Member, School of Social Science, Institute for Advanced Study, Princeton, NJ
2016 –                         Fellow, Oxford Centre for Animal Ethics
2014 – 2014                Humboldt Foundation Fellow, Humboldt University, Berlin
2009 – 2010                Humboldt Foundation Fellow, Goethe University, Frankfurt
2004 – 2005                Laurance S. Rockefeller Visiting Fellow, Princeton University
1999                            PhD, University of Pittsburgh
Books – Monographs
Inside Ethics: On the Demands of Moral Thought (Cambridge, Harvard University Press, 2016)    
Beyond Moral Judgment (Cambridge, Harvard University Press, 2007)
Books – Edited Volumes
Wittgenstein and the Moral Life: Essays in Honor of Cora Diamond (Cambridge, MIT Press, 2007).
Reading Cavell (New York, Routledge, 2006 (co-edited with Sanford Shieh)).
The New Wittgenstein (New York, Routledge, 2000 (co-edited with Rupert Read)).
Selected articles
"Objectivity," in James Conant and Sebastian Greves, Wittgenstein: Basic Concepts, Cambridge, Cambridge University Press, forthcoming.
"Animals, Cognitive Disability and Getting the World in Focus in Ethics and Social Thought: Reply to Eva Feder Kittay and Peter Singer," Zeitschrift für Ethik und Moralphilosophie, forthcoming
"Comments on a Contested Comparison: Race and Animals," in Oskari Kuusela and Benjamin De Mesel, Ethics in the Wake of Wittgenstein, London: Routledge, forthcoming. 
"Cavell and Critique," Conversations, forthcoming.
Responses to Stanley Hauerwas, Avner Baz, Anne-Marie Søndergaard Christensen, Nora Hämäläinen and Aaron Klink in a symposium on Inside Ethics, September 2018, https://syndicate.network/symposia/philosophy/inside-ethics.
"The Horrific History of Comparisons Between Animals and Cognitively Disabled Human Beings (and How to Move Past it)" in Lori Gruen and Fiona Probyn Rapsey, eds., Animaladies, Bloomsbury, 2018.
"Cognitive Disability and Moral Status", in David T. Wasserman and Adam Cureton, eds., The Oxford Handbook of Philosophy and Disability (Oxford University Press, Online Publication Date Jun 2018) DOI: 10.1093/oxfordhb/9780190622879.013.40.
"Ethics," in Lori Gruen, ed., Critical Terms in Animal Studies, Chicago, IL, University of Chicago Press, 2018.
"Wittgenstein Goes to Frankfurt (and Finds Something Useful to Say)", Nordic Wittgenstein Review 7(1):7-41, June 25, 2018.
"The Methodological is Political. What's the matter with 'analytic feminism'?" Radical Philosophy, RP 2.02, June 2018.
"Putnam and Propaganda," Graduate Faculty Philosophy Journal, Vol. 38, Issue 2, 2017, pp. 385–398.
"Coetzee's Quest for Reality," in Patrick Hayes and Jan Wilm, eds., Coetzee and Philosophy, Oxford, Oxford University Press, 2017.
"Feminist thought and rational authority: Getting things in perspective," New Literary History, Vol. 46, no.2 (Spring 2015), pp. 287–308.
"Freedom is for the Dogs," in Martin G. Weiss and Hajo Greif, eds., Ethics – Society – Politics,  Berlin, De Gruyter, 2013, pp.203-226.
"Dogs and Concepts," Philosophy, vol.87, no.2 (April 2012), pp. 215–237.
"W.G. Sebald and the Ethics of Narrative," Constellations, Vol. 19, no. 3, (Spring 2012), pp. 494–508. (Reprinted in Language, Ethics and Animal Life: Wittgenstein and Beyond, Niklas Forsberg, Mikel Burley and Nora Hämäläinen, eds., New York, Bloomsbury, 2012, pp.195-212.)
"A Brilliant Perspective: Diamondian Ethics," Philosophical Investigations, vol.34, no.4 (October 2011), pp. 331–352.
"J.M. Coetzee, Moral Thinker," in Anton Leist and Peter Singer, eds., Coetzee and Ethics: Philosophical Perspectives on Literature (New York, Columbia University Press, 2010), pp. 249–268.
"What Do Feminists Want in an Epistemology?" in Peg O'Connor and Naomi Scheman, eds., Re-Reading the Canon: Feminist Interpretations of Wittgenstein (University Park, PA, Penn State Press, 2002), pp. 97–118.
"The Happy Truth: J.L. Austin's How to Do Things With Words," Inquiry, vol.45, no.1 (Spring 2002), pp. 1–22.
"A Question of Silence: Feminist Theory and Women's Voices," Philosophy, vol.76, no.96 (July 2001), pp. 371–395.
"Wittgenstein's Philosophy in Relation to Political Thought" in Alice Crary and Rupert Read, eds. The New Wittgenstein, pp. 118–145.
"Does the Study of Literature Belong in Moral Philosophy? Some Reflections in the Light of Ryle's Thought," Philosophical Investigations, vol.23, no.4 (October 2000), pp. 315–350.
Moral Philosophy
Philosophy and Literature
Wittgenstein/Austin/Ordinary Language Philosophy
Animal Ethics
Philosophy and Cognitive Disability
Feminist Philosophy 
Social Philosophy/Social Epistemology.