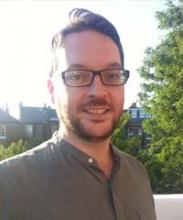 Dr Stephen Rainey is a research fellow in the Oxford Uehiro Centre for Practical Ethics. He is a working in the Horizon2020-funded project BrainCom which is developing therapeutic brain-computer interfaces that will enable communication for users with debilitating speech conditions. Dr Rainey studied philosophy in Queen's University Belfast and obtained his PhD in 2008 with a thesis on rationality. He has taught a range of philosophical topics, and worked on a number of European Commission-funded research projects. These have included work on ethics, emerging technologies, and governance. He contributes to European Commission ethical and scientific evaluation panels for the funding of research projects. These have included proposals for ERC and Marie-Curie grants. Stephen has research interests in the philosophy of language, rationality, governance, and artificial intelligence.
Dr Rainey has recent publications in areas including philosophy and artificial intelligence, brain-computer interfaces, consciousness, ethics in research, and the politics of research. He has edited, and contributed to, books on philosophy and film, policies for research governance, and the ethics of emerging technologies.
Stephen has interests in developing Kantian ideas into accounts of rationality that can serve to elucidate a variety of areas including studies of consciousness, language, ethics, and governance. He is interested in how philosophical accounts of language and communication can animate critical accounts of artificial intelligence, and broader appreciations of human/technology interaction.