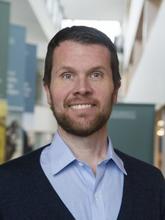 Dr Parrott's research explores topics that are central to the philosophy of mind, and also engages with issues in contemporary philosophy of cognitive science and philosophy of psychiatry. In addition, he has broader research interests in questions concerning self-consciousness and self-reference, perceptual knowledge, the nature of scientific explanations, and the philosophy of David Hume. Currently, Dr Parrott is developing two complementary research projects.  The first concerns our knowledge of mentality and examines philosophical questions that concern both self-knowledge and our knowledge of others' minds.  The second project considers the nature of delusional thinking and explores the question of how it can shed light on ways that individuals form beliefs about the world.
Dr Parrott offers tutorials for first year students in Logic and General Philosophy. He also offers tutorials in Knowledge and Reality, Philosophy of Mind, Philosophy of Science, and Philosophy of Cognitive Science. Over the course of his career, he has given lectures in Philosophy of Mind, Philosophy of Psychology, Philosophy of Cognitive Science and Philosophy of Mental Health.
Dr Matthew Parrott is an Associate Professor in the Faculty of Philosophy. He received his PhD from the University of California, Berkeley and also holds a BA from the University of Michigan. Prior to joining St Hilda's, Dr Parrott held a Birmingham Fellowship in the Department of Philosophy at the University of Birmingham and was a Lecturer in Philosophy at King's College London. He also previously held an Andrew Mellon Postdoctoral Fellowship at the University of Oxford. Dr Parrott's research interests focus primarily on questions in the philosophy of mind and cognitive science, and the philosophy of psychiatry, but also extend to issues in epistemology and philosophy of science.
Books
Knowing Other Minds (ed.), Oxford University Press